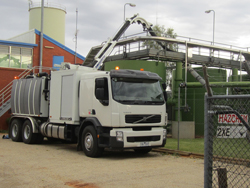 The Aquatech B10, is the grandfather of high pressure water jetting.
This state of the art piece of equipment is designed for larger diameter applications and boasts hydro excavation and vacuum loading facilities.
Key performance characteristics:
340HP Volvo truck with Omsi split shaft PTO (truck and jetvac by powered by truck engine)
Vacuum Unit specification:
Capable of producing 6120m3/hr suction. 3600 cfm
Lift a 5.3m column of water through a 200mm hose.
Suction hose is remotely operated on an extendable overhead boom, capable of 360 degree rotation.
7500 liter tipping debris tank with a fully opening rear door.
Water pump off facility, capable of disposing 330 liter/minute as recycling to jetter storage tank or waste.
Water in debris tank can be displaced while unit is performing suction operation.
Unit is fitted with cyclone filters permitting wet and dry suction tasks.
No destructive digging (hydro excavation)
Jetting unit specification:
330 liter/minute @ 13800 kPa. 80 gpm us 2000 psi
240m of 25mm jetting hose mounted on an articulated reel.
Jetter storage tank 4000 liters with the ability to use the 7500 liter debris tanks as additional storage.
Complete assortment of jetting nozzles and hand lances.